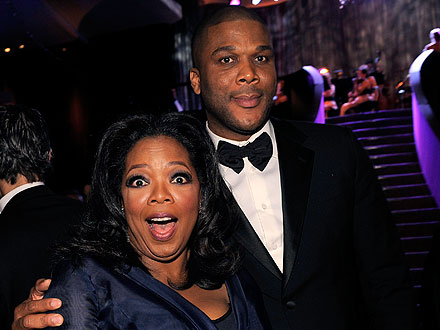 Tyler Perry and Oprah Winfrey really are the best of friends. Tyler showers Oprah [and Gayle sometimes] with gifts, but this year his gift might have hurt more than helped. On Facebook, Tyler explained that the bouquet of flowers he sent his dear Oprah caused her to strain her back when she attempted to lift them.
"I FEEL SO BAD

I like to send really large flower arrangements to people for whatever occasion. Well, I sent one to Oprah yesterday for her birthday. She strained her back picking it up. No joke! Feel better Oprah. Happy birthday. Sorry. Next year I'm sending her one rose. "
Oprah also tweeted, to her 16 millions followers, about her condition:
"In bed with an ice pack most of today. Moved a bushel of roses sent by @tylerperry and sprained a back muscle" 
Like the saying goes, "It's the thought that counts".
Natalie [aka Natles Nicole], everythingYNTK for VIBEVixen.com
Natles | Natles Nicole on facebook
Natles | @natnatles on twitter
Natles | ilovenatles on tumblr